Regular price
Sale price
$22.00 USD
Unit price
per
Sale
Sold out
Share
The ADHD Iceberg Illustrated Infographic on Velvet Fine Art Paper
Having ADHD is a complex experience, and for many of us much of that experience isn't externally visible. Underneath the surface, within our hearts and minds and bodies, so much more is going on. Because people don't often realize the extent to which ADHD impacts our internal experience, it can be difficult to explain the true breadth of our struggles to loved ones.
Use this infographic to educate others and remind yourself that ADHD is so much more than what we see: physical hyperactivity, poor time management, and procrastination; that ADHD is so much more than its stereotypes.

NOTE: "time blindness" is often considered to be an ableist term. The original design has been edited to reflect this inappropriate language. The listing image for the physical print will be updated soon to reflect this change. Please see the digital image and image description for the edited content which has been adjusted to say, "perception of time."
Home-printed on velvet fine-art paper and hand-cut to 8.5 by 8.5 inch square prints.
View full details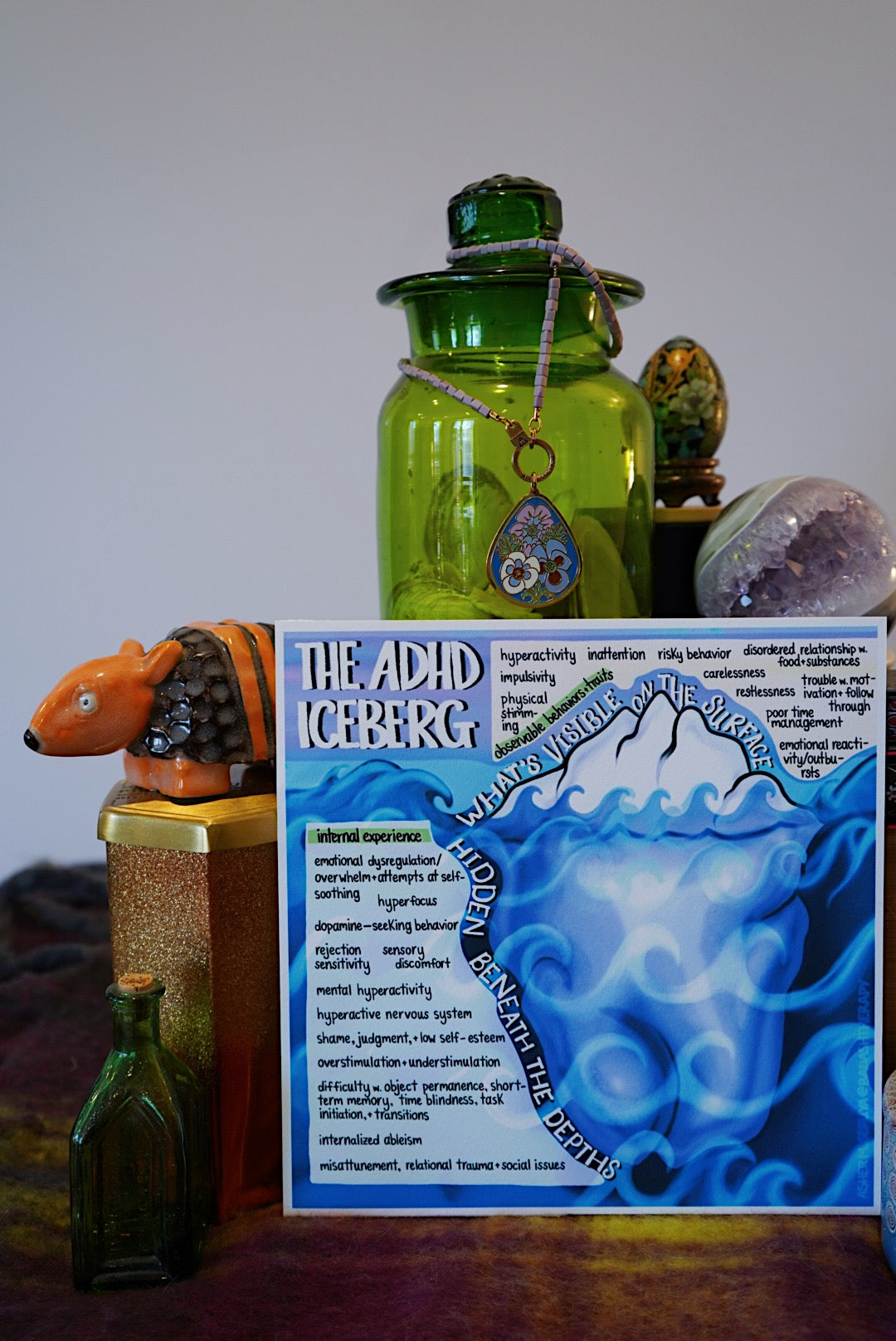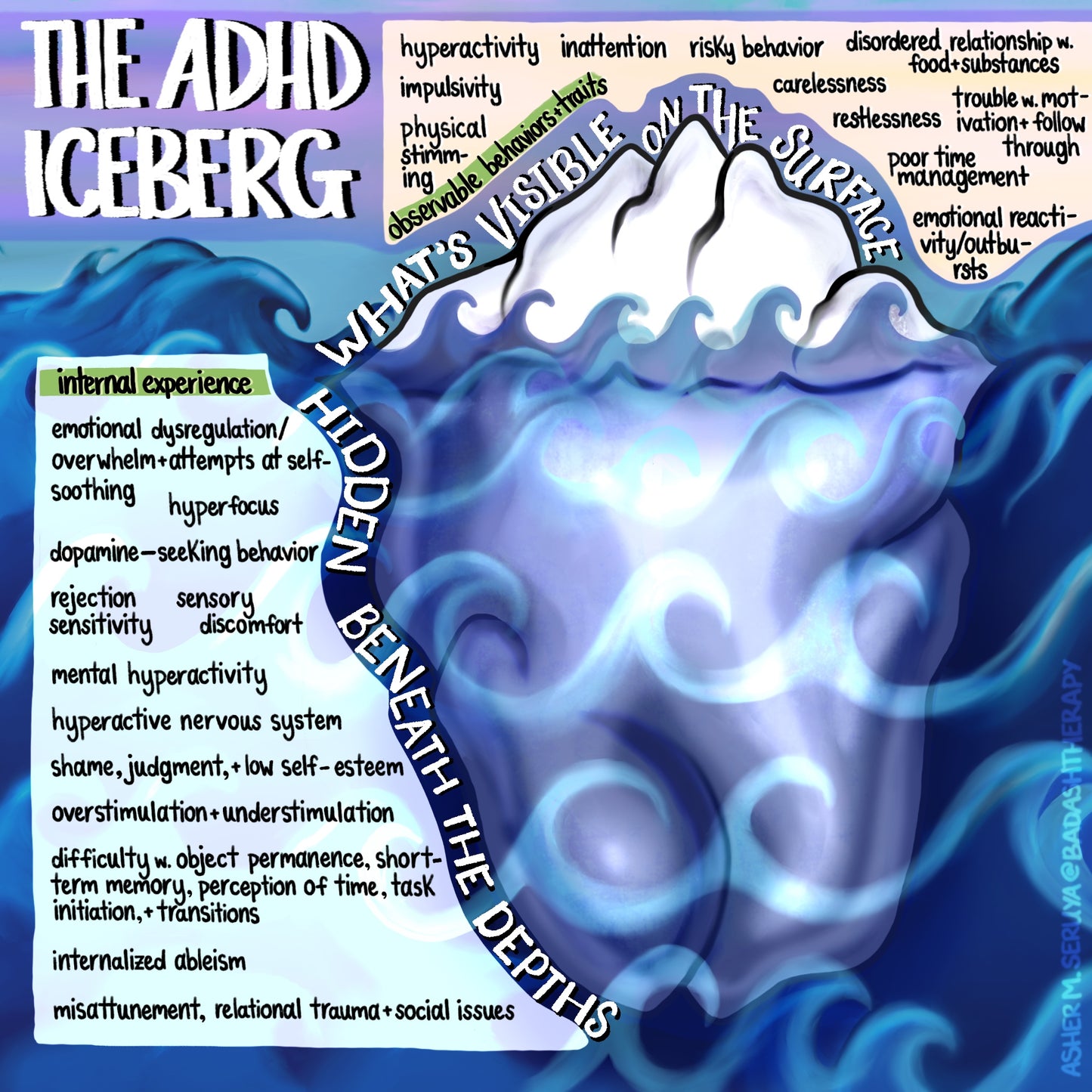 Purchasing a fine art print?
Please be advised that your purchase of any fine art print comes with a complimentary download bundle that includes the digital artwork of the same design (JPG), and an image of the simple text description of the design (JPG).
What is the appropriate use for accompanying complementary digital artwork?
Digital artwork that accompanies a purchase of a physical print is meant to be a complimentary gift for personal use.
You are welcome to use the digital artwork as digital wallpaper on your devices or to make additional copies on different kinds of paper for personal/office decor and resources. For example, printing out a few of the designs to keep in your office as a resource pack to use with clients during therapy sessions is strongly encouraged! Commercial use is prohibited. Sharing the file or printing for anyone other than yourself is strongly discouraged.
If you would like to use the digital files to make more physical copies of the design in larger quantities (for some of the spicier designs, say, to print a bunch out and stick them up in the workplace kitchen or break room) and/or for presentations, please purchase the additional digital artwork separately. This version comes with less limited distribution permissions/suggestions*.
If you have any questions or concerns about which product is the right one for your needs, don't hesitate to reach out via email at asher@ashermseruya.com.
*this is me acknowledging that I can't control your actions or choices! These are merely the suggested uses of your purchase, and I hope you will honor those suggestions in order to respect my time and my work. Thanks ♥️
Notice on design colors
Please note that prints, stickers, and digital versions of the same design will all have slightly different coloring due to difference in paper texture, dye deposits and opacity, and color assignments that differ between computers and printers. All products have been carefully color-corrected to the best of my ability. Thank you for understanding and appreciating the uniqueness of the process!
Production Timeline

Please be advised that I make your prints and stickers to order! Orders will be dispatched 5-10 business days after purchase.

Digital Downloads

Didn't receive the download(s) via email? Reach out to me at asher@ashermseruya.com if your purchase is still missing after 24 hours.